Director: Jean-Marie Teno
Country: Cameroon
Year: 1992
Running Time: 88 min.
Language: French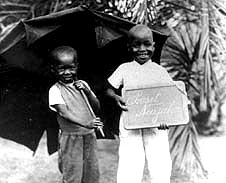 Jean-Marie Teno shuffles genres to draw a complex cinematic picture of post-colonial Africa. The film is an odd pastiche of nostalgia (young Teno falls in love with the movies by watching Indian melodramas), documentary (a bit of Faux candid camera), historical footage, polemic essay, even a hilarious, yet politically searing cabaret act! Teno weaves a melancholy visual poem in which the colonizer and the formerly colonized are equally confronted. In doing so, he also creates a new form of African film, effortlessly combining document, fiction, and the expression of an original voice.