Director: Lionel Rogosin
Country: South Africa
Year: 1960
Running Time: 83 min.
Language: Zulu and Afrikaans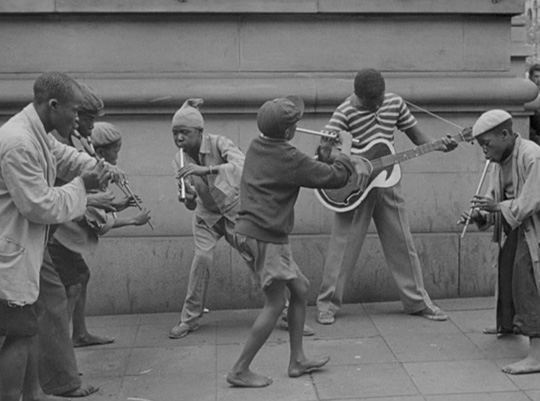 Come Back, Africa is the second feature-length film after On the Bowery (1956) written, produced, and directed by American independent filmmaker Lionel Rogosin.
The film had a profound effect on African Cinema, and remains of great historical and cultural importance as a document preserving the unique heritage of the townships in South Africa in the 1950s. It may be classified as reportage, documentary, historical movie or political cinema, since it portrays real events and people. On the other hand, it reveals an interpretation of meaningful social facts and a strong ethical assumption towards human behaviors like racism.
Nevertheless, it is a scripted film (like On the Bowery), based on fictional narrative, in which actors play invented roles. But, unlike mainstream films and against Hollywood traditions, its actors are street people, improvising lived experiences: they play their own lives or those of people like them. That is why Come Back, Africa is a fiction / non-fiction, a hybrid of fictional film and documentary: a docufiction. Besides, it is a rare specimens in film history of docufiction and political film in one.
Desperate to feed his household, Zachariah, a young Zulu, departs his famine-stricken kraal to work in the Johannesburg gold mines. He eventually settles in one of the squalid apartheid-era townships, only to find himself confronted with a barrage of South Africa's infamous pass laws restricting his every move. Zachariah learns that he cannot seek employment without a pass; paradoxically, he cannot obtain a pass without employment. Meanwhile, his family is consistently threatened with exile or imprisonment if they fail to comply with these draconian regulations.
Zachariah subsequently drifts through a succession of odd jobs as garage attendant, waiter, and public laborer – ridiculed, insulted, and ostracized by unfeeling Afrikaner superintendents. As they struggle to support their home, even Zachariah's spouse Vinah is forced to take up domestic service; she lives on the property of a white landowner, away from her husband. When the latter visits her one lonely evening, he is arrested by the SAP on trespassing charges.
Upon his release from detention, Zachariah discovers that Vinah has been murdered by Marumu, an infamous Sophiatown hoodlum, after resisting several unwanted sexual advances. His overwhelming sense of torment, helplessness, and frustration is intended to capture the resentment of South Africa's indigenous population. Denied basic civil rights, many must weave a treacherous path of survival through the myriad of legal and unofficial racial codes, while their families disintegrate on the townships' violent streets. Some – like Zachariah – are utterly defenseless in this struggle, impossibly torn between apartheid's calculated suppression and the wanton atrocities of organized crime.